Readers might know I spent some time developing a blog for a UK firm of Chartered Accountants, Kevin Beare & Co, I have nothing to do with the excellent content, just the creation of the blog in WordPress based on their PracticeWeb main website.
However, Paul Beare, the editor of the blog following his excellent content has been awarded for his efforts and now blogs for for the US AccountingWeb website under the name "The UK Voice"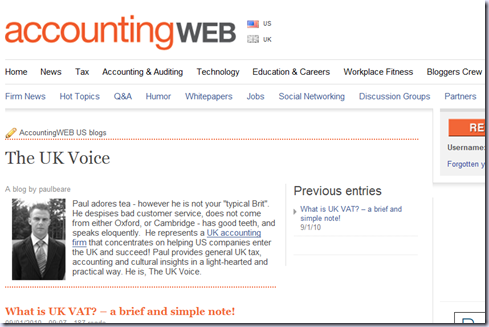 Paul adores tea – however he is not your "typical Brit". He despises bad customer service, does not come from either Oxford, or Cambridge – has good teeth, and speaks eloquently.  He represents a UK accounting firm that concentrates on helping US companies enter the UK and succeed! Paul provides general UK tax, accounting and cultural insights in a light-hearted and practical way. He is, The UK Voice.
If you need help with this type of development including content then please use the contact page.