Please please those students who get this email be very wary it is a scam: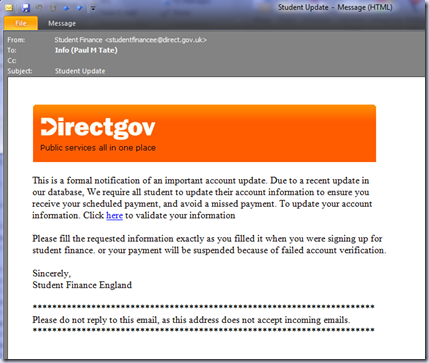 the Directgov image is valid and the email purports to come from Student Finance studentfinancee@direct.gov.uk
but the link "here" is some weird scamming site:
http://afzalmulla    .com/  studentfinancegov  .htm
DO NOT CLICK IT, DO NOT GIVE INFORMATION.
If you are worried then go to the Directgov site from the address bar and make sure it is correct. They have a page explaining what to do
http://www.direct.gov.uk/en/Nl1/Newsroom/DG_191026
I went to their homepage and put Phishing in the search bar to find that, I suggest you do too.