I have spent my career interfacing between the IT companies/departments and the accountant end users solving many varied problems. My current issue is made even worse as it is between two of the best in the business.
Since September 2011 we have had issues using IRIS Accounts Production software, initially with the new iXBRL module and now with their shiny new IRIS Portal menu system.
IRIS has won many awards this year for their iXBRL software but we have only been able to use it by numerous workarounds interrupting the usual workflow of the business.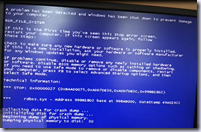 At the beginning of September last year all twelve of our identical Vista 32 Dell OptiPlex workstations crashed (Blue Screen of Death) when we tried to produce any iXBRL report. In their usual cavalier manner IRIS support blamed Dell and the video drivers/cards. So we added new cards to each machine but found the issue continued.
At the end of September the issue disappeared, machines started working we could file our first returns and go back to issuing invoices on completion we have no idea why.
Bonfire night came and the issue returned with no visible changes to the machines other than the usual Microsoft and AV updates.
Anti virus and firewalls were now blamed and with some reluctance I ran the software on our Small Business server, it worked but the workstations all continued to crash BSOD.
We then installed the then latest version 10.7 on machine 13, an HP machine with more memory than the Dell's and a copy of the database. We removed Symantec Endpoint and the machine worked. This allowed us to file the returns during the practice's busiest time but only as a single user system. Running a machine without Anti Virus was something we only did with reluctance.
Once the busy period was over we tried the machine as a network one but again the workstations crashed.
Finally in February we formally complained to the CEO of IRIS – Phill Robinson. This resulted in a more senior support person being assigned.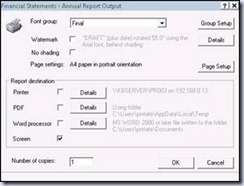 After some investigation it was found that a part of the iXBRL process was using a screen dialog from the Accounts Production area and was removing a tick from a box and causing a BSOD.
The little tick in the Screen box was being removed, this was shown in an ini file.
The engineer seemed to think this was caused by Symantec Endpoint in some way so the tag editor was excluded from all scans Endpoint might make. Moving back to the full server version we also made sure before all iXBRL reports were produced that the Annual Report Output screen had at least one tick in its output section and all was well until …..
We upgraded to 10.9 for iXBRL 2nd generation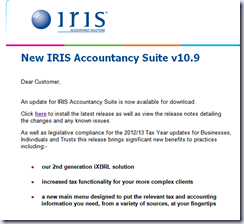 The new IRIS Portal caused our machine's to blue screen again. This resulted in the IRIS engineers excluding a further four files from being scanned by Symantec Endpoint.
This worked fine on most machine's but I had left a few not edited whilst Symantec did some investigations from the West Coast of America. In the normal course of events Symantec Endpoint issued an upgrade and when I tried to enter the exclusions in the new client software I found that it was ever so slightly different from previously. Enough that the new exclusions didn't work.
Symantec had "corrected" several errors in their exclusion module!!
So IRIS say its Symantec, though I have crashed a machine with the client software stopped and Symantec say its poor programming or not using the white list facilities they offer.
I put this rant together to try and see if anyone out there is suffering like we are?
Vista 32 OS, Iris 10.9 and Symantec Endpoint 12
We still want to use the two market leaders, the software packages when they work together do the job exceptionally well. The amount of man hours invested by our end users cannot be underestimated something we need to bear in mind when considering changing.