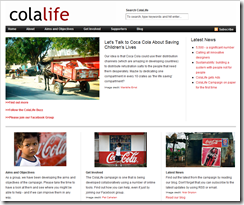 A friend of mine, Simon Berry of Ruralnet, has been running this campaign for a little while now and has finally got Coca Cola's attention. He recently sent me this email, and I thought you should hear about it.
You may already know that in May of this year I started an online campaign to get Coca-Cola to use its distribution muscle to save children's lives in developing countries, where I lived and worked for 12 years. And the progress has been amazing (see below) but I need your help (not money!) to get through the next crucial phase. You can help by clicking here or reading on . . .

In the next 24hrs more than 5,000 children in Africa will die from simple causes such as dehydration from diarrohea. Simple medicines like oral rehydration salts are not available and yet, virtually wherever you go, you can buy a Coke.

This simple campaign could significantly reduce this relentless death toll but I need you to show your support.

There are now more than 5,000 people signed up to the campaign's Facebook Group and we have our own website and blog: http://colalife.org The Facebook Group has been fundamental to all the progress we have achieved. We've got Coca-Cola's attention, I've met with them and we are talking.

However, we are now in a crucial phase. Over the next few weeks Coca-Cola will decide whether or not to run trials of the idea in east Africa. A deciding factor will be the continued growth of the Facebook Group. And there other ways people can show support (see below).

Please join our Facebook Group:

http://www.new.facebook.com/group.php?gid=18947780476

or show your support in some other way. There are many options and none involve money:

http://www.colalife.org/get-involved/

Thanks in anticipation.

Simon

Progress reports are available here:
I have signed up on Facebook why don't you.