Well the first Coalition Budget scraps the RDA's and wants "Local Enterprise Partnerships". Lets hope these are big enough to have economies of scale and small enough to be approachable and really relate to "functional economic areas".
Making some policies national will however mean that one primary advantage of the RDA's will be lost, the local knowledge utilised for investment in the local economy. Who will advise the relevant Government Department that a local market town initiative in rural England is better than one in an inner city or vice versa. Market forces are good but only where there is a sufficient economy in place to allow it to happen. Seed corn investment is needed across rural and urban boundaries.
I wonder if the proposed meeting on 12th July between Cherwell District and South Northamptonshire Councils regarding a possible merger of their management teams will have an impact on this.
Cherwell District Council and South Northamptonshire Council consider benefits of working together.
One of my biggest gripes over the years is that I live on the border of several RDA's – SEEDA, AVM, EMDA and SWRDA and not far from EEDA.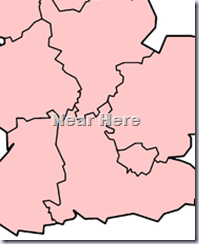 I really hope this "Local" idea helps the surrounding economy and doesn't just add another set of conflicting boundaries.