In Healthcare IT News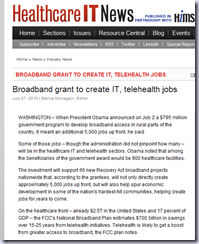 Broadband grant to create IT, telehealth jobs
July 07, 2010 | Bernie Monegain, Editor
WASHINGTON – When President Obama announced on July 2 a $795 million government program to develop broadband access in rural parts of the country, it meant an additional 5,000 jobs up front, he said.
Some of those jobs – though the administration did not pinpoint how many – will be in the healthcare IT and telehealth sectors. Obama noted that among the beneficiaries of the government award would be 900 healthcare facilities.
The investment will support 66 new Recovery Act broadband projects nationwide that, according to the grantees, will not only directly create approximately 5,000 jobs up front, but will also help spur economic development in some of the nation's hardest-hit communities, helping create jobs for years to come. ……..
For the rest go here… http://www.healthcareitnews.com/news/broadband-grant-create-it-telehealth-jobs
a retweet from http://twitter.com/cstineman/ via http://twitter.com/cyberdoyle/